Cornerstone Composites Inc.
900 E. Vienna St., Milwaukee
Industry: Composite molding
Employees: 75
---
Cornerstone Composites Inc. president Boyd Miller puts his faith in his product.
He says that every year a Milwaukee School of Engineering plastics class comes for a tour. Miller picks out a student and offers to buy him a steak dinner if he can break one of the company's composite pieces. Try as they might, Miller has never had to pay up.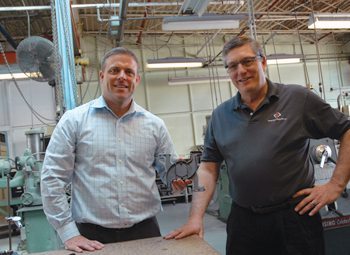 Miller knows his products won't be a perfect fit for every situation and likely won't be the cheapest either, but it's those customers looking for an alternative to plastic or metal that he's interested in.
"We're trying to really help people change what they're offering their market," Miller said.
Cornerstone does that by combining engineering services with precision molding of composite materials.
The company dates back to the 1940s when German immigrants Erich Dickten and Alfred Masch formed the Dickten & Masch tool company. They eventually sold the business to longtime employee Duane Kreske in the 1980s, when it became known as Wisconsin Thermoset Molding.
"I bought it in 2008 and the sales promptly dropped in half in 2009 because of the economic conditions," Miller said. "We struggled up the curve and recovered."
In 2015, Wisconsin Thermoset merged with Rose Polymer Composite to create Cornerstone Composites, which is based in a 35,000-square-foot facility at 900 E. Vienna St. in Milwaukee. Cornerstone also has a 7,500-square-foot facility on Silver Spring Drive and a 10,000-square-foot warehouse.
The company's finished products are designed to work well in situations where components need to be high-strength or withstand high-heat or high-dielectric applications.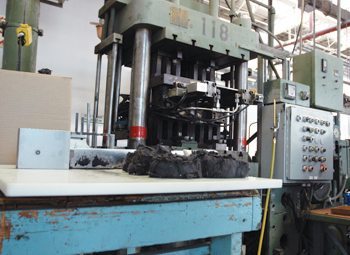 The process does have its downsides. Unlike metal or plastic, which can be melted or ground up for reuse, it is a one-way process for the composites Cornerstone uses. Similar to a two-part epoxy glue found at the hardware store, Cornerstone uses temperature and pressure to activate a chemical process that changes the material into something completely new. Because the material can't be reused, Cornerstone has to keep an eye on how much scrap is generated, aiming for just 1 percent.
The thermoset process used by Cornerstone comes with higher material and labor costs than thermoplastics. As a result, there aren't a lot of firms in the industry.
"They're unique, special applications," Miller said
Sometimes, people come to Cornerstone looking for something soft or flexible produced at high-volume and low-cost.
"It's not us and it's not what the product is," Miller said.
And Cornerstone doesn't compete on cost alone.
"We don't want to come across as the lowest cost supplier in the world because that's not us; that's not what we're doing," Miller said.
Instead, Cornerstone offers engineering services, which can be tricky because customers don't always know what is possible with the composite materials. The goal becomes understanding what a customer is after, said Andy Stroh, vice president. Some want to reduce the product's weight ; others are looking for improved strength; and some want a combination of those two.
The company serves end markets including commercial construction, oil and gas, mass transit and food service. Products include manhole covers that are lighter yet durable; a product that centers oil and gas pipes in a hole but slides better than steel against rock; and a wall tie that improves building efficiency.
Get the latest manufacturing news delivered to your inbox every Monday. Sign up for BizTimes' Manufacturing Weekly at biztimes.com/subscribe.